Smarty Pants Soirée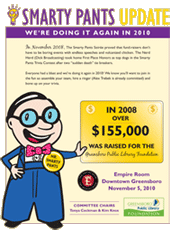 Scenes from the 2008 Smarty Pants Soirée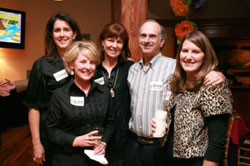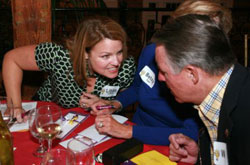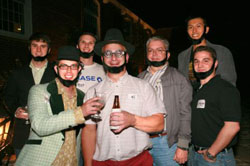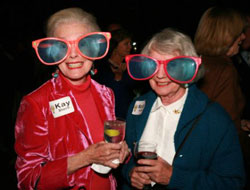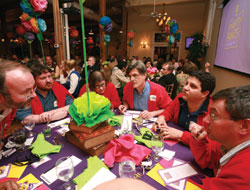 The first Smarty Pants Soirée fund-raiser proved that people love to compete in trivia contests, especially if it means raising money for children's services at the Greensboro Public Library. Held in November, 2008, Smarty Pants Soiree drew more than 300 people, raising more than $155,000 for the Greensboro Public Library Foundation.
The second Smarty Pants Soiree is set for Friday, Nov. 5, 2010, 6 p.m., at the Empire Room in downtown Greensboro. Event chairmen are Tonya Cockman and Kim Knox.
Click here for the brochure to participate in Smarty Pants 2010!
A table of eight people forms a Smarty Pants team. Corporations sponsor teams; individuals gather their friends to form a team. In 2008 the winning team was "The Nerd Herd" from Dick Broadcasting.
The money raised from the Smarty Pants Soiree goes directly to children's services at the Library.
The Greensboro Public Library offers children endless possibilities for learning. Its many programs help children improve their reading skills and in turn develop their love for reading.
MAKE THE FUTURE BRIGHTER - Books allow children to escape to another time and place while improving their minds. With your help, you can provide the children of Greensboro with a solid foundation for reading.
SUMMER READING - The library sponsors a summer reading program that incudes incentives and entertaining programs designed to keep kids reading.
STORY TIMES - For children up to 5 years of age, the library sponsors weekly programs designed to promote language development and print recognition skills.
PROMOTING LITERACY THROUGH ART - The Hemphill Branch Library combines art with learning. Hemphill offers traditional library services plus art exhibits and the ArtQuest studio.
AFTER SCHOOL PROGRAMS - Each branch has after-school programs with stories, activities and crafts. In addition, each branch also offers programs that provide a unique learning experience:
Glenwood Branch offers programs about diversity and international cultures.
The McGirt-Horton and Vance Chavis Branches sponsor programs on African American heritage and culture.
The Kathleen Clay Edwards Family Branch focuses on the environment.