Arts Commission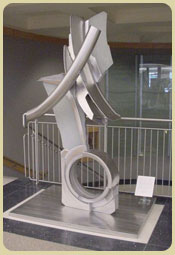 The Greensboro Library Arts Commission (GLAC) was established in January 1997 to enhance the Library facilities with art, creating an environment that stimulates and enriches Greensboro's diverse community, encourages lifelong learning, nurtures the joy of reading, and celebrates the connection between the arts and literature.
The Greensboro Public Library Foundation provides the necessary funds for the Commission to secure the art to meet this mission.
Throughout the Greensboro Public Library facilities, art has a very intentional presence. In 2010 both the renovated Benjamin Branch library and the new McGirt-Horton Branch opened, each containing important works of art that provide unique environments for library patrons.
At the new McGirt-Horton Branch library, located at 2501 Phillips Avenue, public art includes a large wall mural by Ernest Watson, depicting individuals and events that have shaped the history of Northeast Greensboro. Four sculptures by William Donnan in the Children's Garden tell the story of Africa's contributions to world civilization.
At the renovated Benjamin Branch library, 1530 Benjamin Parkway, "Fictions," a five-part mobile by David Finn, gently moves high above patrons' heads, adding interest to the raised ceiling.
Other works of art that can be found at the Greensboro Public Library include:
Nature's Encominium by Chip Holden (2004) at Kathleen Clay Edwards Family Branch ~ acrylic on plywood
Vision Quest by C. Shana Gregor (1998) at Central Library ~ acrylic on canvas
Piedmont Landscape by Jan Burger and Emma Shurnick (2004) at Kathleen Clay Edwards Family Branch ~ acrylic on canvas
Cultural Tapestries ~ Jan Hart, Project Director (1996) at Glenwood Branch ~ enamel on board
Eye of David by Shawn Morin (1999) at Central Library ~ carved Indiana limestone
City Mural by Michael Brown (1998) at Central Library ~ Acrylic on Canvas
Garden for the Floating Life by Christina Shmigel (2004) at Hemphill Branch ~ painted metal
Propeller Whirligig by Vollis Simpson (2004) at Hemphill Branch ~ found objects
Four Seasons by Exceptional Friends Art Studio (2004) at Hemphill Branch ~ acrylic on canvas
Tree of Knowledge by Bill Donnan (1998) at Central Library ~ reinforced cement and bronze
Homer's Vision by Sally Rogers (2003) at Central Library ~ stainless steel and cast glass
Catch a Dream by James Ransome (2004) at Hemphill Branch ~ acrylic on board
Greensboro Library Arts Commission
Pat Levitin, Chair
Pat Trice, Secretary
Alma Adams
Judy Bliss
Deb Degol
Dana Donaldson
Jan Hart
Janet Hendley
Jackie Humphrey


Jerry Leimenstoll
Pat MacKenzie
Carol Meetze-Moates
Marcia Mohney
Brigitte Blanton, Greensboro Public Library Director
Susan Webster
Jim Young